where can i order custom t-shirts? get personalized customizable t-shirts online
how can i get a custom t-shirt?
Custom t-shirts are a great way to express your personality and print your way of being into a garment that you are going to wear daily in the future, it really makes the experience of wearing any garment a lot more personal and better overall.
You can get your own personalized t-shirt from a specialized store, although the quality of the product and the price varies a lot, from very bad to good. You can also buy these online, although they are not as easy to find as you may think at first.
We are going to focus on the last option in this article, with some great choices that will let you customize any garment that you wish with awesome designs that you can also choose to add or make yourself.
what can i put on a custom t-shirt?
When deciding to order a custom t-shirt you may find yourself wondering what to put on a said garment, what can you write / draw on a t-shirt, and if there are things that you are not allowed to print…
Well, generally you can write or design anything you want to and have a custom t-shirt printed and sent to you, it all depends on the place you are ordering it from, and we will show you a way you can print anything you want, even request a beautiful design to be made for you, so stay tuned.
A thing that you need to be careful with, however, is copyright and trademarks. You are not allowed to print anything that contains copyright or trademarked materials, everything that you use has to be either made by you or something that is neither copyrighted nor trademarked; which is pretty terrible.
Overall, if you are careful with copyrights and trademarks you can request a custom t-shirt to be made for you with the design or text that you want, and yes, you can order garments with swear words printed on them too, that's up to you.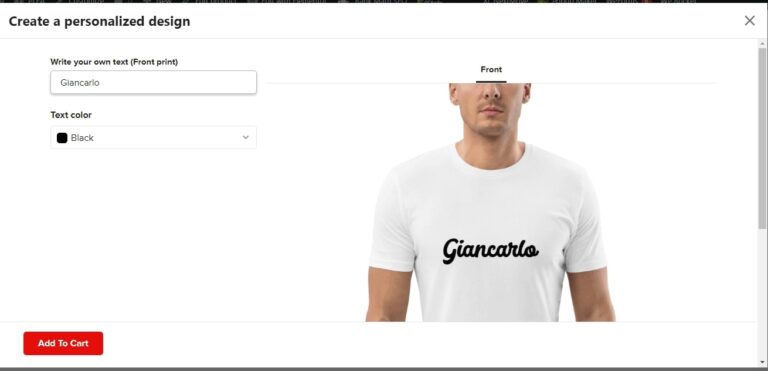 where can i order a custom t-shirt?
There are many places that you can order your own custom t-shirts from, and as we said before, we are going to focus on the online option, we have great news for you, as we have one of the best personalizable garment options for you on the market.
We are talking about PLEA, a sustainable fashion project that offers many garments, some of them being customizable t-shirts with different fonts and graphics that you can add to your very own t-shirt, and yes, they do have a blog and you are reading it right now, so you don't even have to search for it online.
What do we offer that others do not? Well, personalizable t-shirts in the first place, but they are also sustainable, slow fashion, and you can order them made from 100% organic cotton and recycled materials that will reduce your carbon footprint on this world. We also use very high quality and eco-friendly methods of printing designs that others do not, if you want to learn more about that you can read our About Us page.
The whole process is very easy to do, and the t-shirt of your dreams can arrive at your home in just a few days. But there is another great feature that we offer and no one else offers, and that will be discussed next.
how can i request a custom design for my t-shirt?
We said that we offer something that no one else offers anywhere else, what is that? Well, you can request a custom design to be MADE for you personally, which means, our expert designers and professional software will create the design you wish completely for FREE, and you can order a custom t-shirt to be printed with it.
The procedure is pretty simple, you just have to contact us telling us what design you wish to be made for you, and you will receive that in no time, then you can order a garment to be printed with that same design you asked for, and that's it! You can now enjoy your brand new, organic, sustainable, professional personalized t-shirt yourself.
If you want to learn more about how exactly this procedure works and how you can request a custom design to be made for you, please check out the article How Can I Request A Custom Design For My T-Shirt / Garment?, we went a little more in-depth on all the steps that will get you your very own professional personalized design.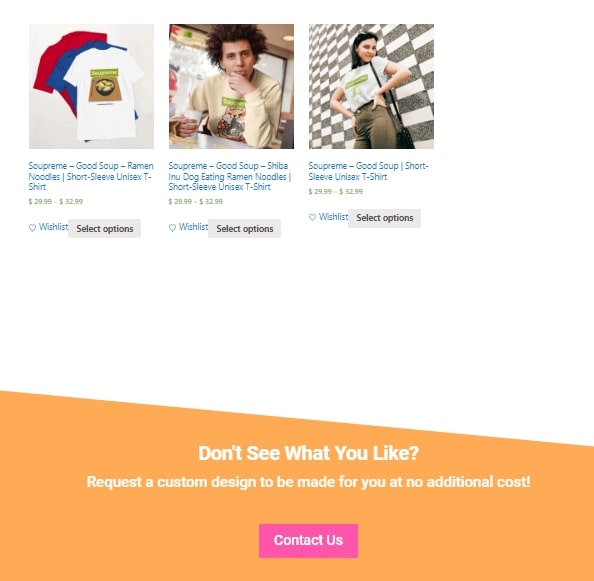 We hope you have learned a lot today about custom t-shirts and how you can order them online, if you want to learn more about slow fashion and the problem with the fashion industry, please check out the articles linked below or just check out our blog, where we have tons of different articles like this one that you will enjoy.
We are thrilled to teach people all around the world 🙂 Also, did you really know what Fast Fashion really is and its terrible consequences for the environment, the planet, the workers, society, and the economy? Do you know exactly what the Slow Fashion or Sustainable Fashion movement is? You should really take a look at these articles about this forgotten and unknown but very urgent and important subject, click here to read "Can Fashion Ever Be Sustainable?", Sustainable Fashion, Ethical Fashion, Slow Fashion or Fast Fashion 101 | How It's Destroying Our Planet because knowledge is one of the most powerful strengths you can have, while ignorance is your worst weakness.
We also have a big surprise for you! Because we want to give you the right to know us better, we have prepared a carefully dedicated About Us page where we will tell you who we are, what our mission is, what we do, a closer look at our team, and many more things! Do not miss this opportunity and click here to check it out. Also, we invite you to take a look at our Pinterest, where we will pin everyday sustainable fashion-related content, clothing designs, and other things that you will surely love!